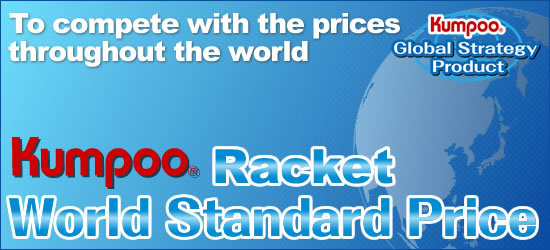 The Global Standard Price
We at Kumpoo took a step back and looked at the racket prices in the global market. Anywhere you look in the world, it is difficult to find a brand that sells their top end rackets for more than ¥20,000 .
To add a competitive edge in the badminton manufacturing industry, Kumpoo has decided to standardize the prices with the global market.
After much study of the market the standard of the world is somewhere in the ¥10,000 to the ¥15,000 range for their high-end models.
To compete with the rest of the world, Kumpoo has decided to lower the prices of the high end models, the Power Shot Nano 2100H and the Power Shot Nano 2300H.
With the prices on a global standard, everyone in the world will be able to enjoy and experience the Kumpoo brand.
Power Shot Nano 2300H

Product:
KR-23S Power Shot Nano 2300H
Flex:
Soft Stiff
Material:
Hi-Modulus Carbon Graphite with CARBON NANO TUBE
Length:
675mm
Color:
Metallic Red
Weight & Grip Size:
4UG5 (80-84g)
3UG5 (85-89g)
Balance Point:
290mm
Tension Range:
4U:19-25lbs
3U:20-26lbs
Recommended Strings:
Power Shot Nano 2100H

Product:
KR-21S Power Shot Nano 2100H
Flex:
Soft Stiff
Material:
Hi-Modulus Carbon Graphite with CARBON NANO TUBE
Length:
675mm
Color:
Classic Gold
Weight & Grip Size:
4UG5 (80-84g)
3UG5 (85-89g)
Balance Point:
285mm
Tension Range:
17-23lbs
Recommended Strings:
Power Shot Nano 1500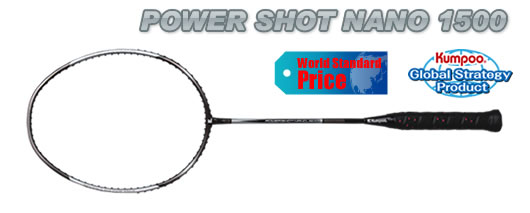 | | |
| --- | --- |
| Product: | KR-015S Power Shot Nano 1500 |
| Flex: | Soft Stiff |
| Material: | Hi-Modulus Carbon Graphite with CARBON NANO TUBE |
| Length: | 675mm |
| Color: | Black & Silver |
| Weight & Grip Size: | 4UG5 (80-84g) |
| Balance Point: | 300mm |
| Tension Range: | 17-23lbs |
| Recommended Strings: | |
Power Shot Nano 2100H

| | |
| --- | --- |
| Product: | KR-013S Power Shot Nano 1300 |
| Flex: | Soft Stiff |
| Material: | Hi-Modulus Carbon Graphite with CARBON NANO TUBE & Expand titanium |
| Length: | 675mm |
| Color: | Black & Yellow |
| Weight & Grip Size: | 4UG5 (80-84g) |
| Balance Point: | 280mm |
| Tension Range: | 17-23lbs |
| Recommended Strings: | |
Power Shot Nano 2100H

| | |
| --- | --- |
| Product: | KR-009S Power Shot Nano 1100 |
| Flex: | Soft Stiff |
| Material: | Hi-Modulus Carbon Graphite with CARBON NANO TUBE |
| Length: | 675mm |
| Color: | Polarizing Paint(Green-Gold) & Silver Metalic(023) |
| Weight & Grip Size: | 4UG5 (80-84g) |
| Balance Point: | 280mm |
| Tension Range: | 17-23lbs |
| Recommended Strings: | |
Power Shot Nano 2100H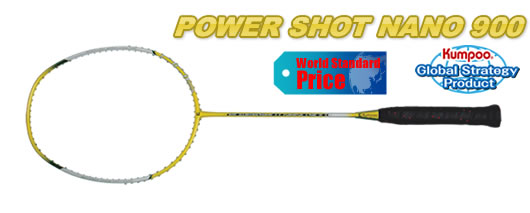 | | |
| --- | --- |
| Product: | KR-011S Power Shot Nano 900 |
| Flex: | Soft Stiff |
| Material: | Hi-Modulus Carbon Graphite with CARBON NANO TUBE |
| Length: | 675mm |
| Color: | Yellow Gold |
| Weight & Grip Size: | 4UG5 (80-84g) |
| Balance Point: | 290mm |
| Tension Range: | 17-23lbs |
| Recommended Strings: | |
Power Shot Nano 2100H

| | |
| --- | --- |
| Product: | KR-003S Power Shot Nano 700 |
| Flex: | Soft Stiff |
| Material: | Hi-Modulus Carbon Graphite with CARBON NANO TUBE |
| Length: | 675mm |
| Color: | Metallic Blue |
| Weight & Grip Size: | 4UG5 (80-84g) |
| Balance Point: | 280mm |
| Tension Range: | 17-23lbs |
| Recommended Strings: | |