The Fourth day of Macau Open
Boonsak took the close match etc
Boonsak won the close match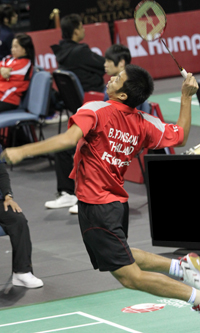 Menfs singles quarter final, Boonsak was against with Sony Dwi Kuncoro from Indonesia. Boonsak once lost by Kuncoro at the final match of Singapore Open.
Therefore it was quite important game for him to revenge the last lost. The first game, it was quite close game that Boonsak one took a lead, Kuncoro caught up with him over and over. But at the end of the game, Boonsak took the advantage of keeping momentum and won by 21-17.
Boonsak lost the second game by 21-16 from allowed Kuncoro consecutive points from 4-4. At the final game, it was close game that they did not give any chance to each other until 23-23.
Boonsak was so concentrated in the game and put all his heart in this final game. He took 2 consecutive points and revenged the last lost from Kuncoro by25-23.
Fourth Game
Boonsak PONSANA
21-17
Sony Dwi Kuncoro
16-21
25-23
Wang Rong could not advanced to the quarter-final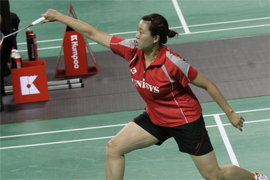 The third round of womenfs singles, Wang Rong was against with Xuerui Li from China.
Game1, she could not take her pace and game was controlled by the opponent. She lost the game 1 by 9-21. Game 2, it was totally different from game 1, Wang Rong took the tempo of the game and dominated the game.
She took game 2 by 21-13. At the final game, Wang Rong and Li scored points one by one and Wang Rong allowed LI 8 consecutive points from 11-11 and lost the game by 13-21.
Third Game
Rong WANG
9-21
Xuerui Li
21-13
13-21
Sudket & Salaree pair advanced to the quarter-fainal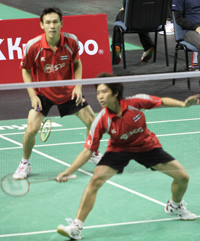 The third round of mixed doubles, Sudket and Salaree were against with Korean pair, Sung Hyuun Ko and Jung Eun H.
They took four points lead at 18-14 at the middle of game 1, but they fell behind because allowed the opponent the consecutive points. But from there, Sudket and Salaree controlled the game and took the momentum back to them.
At the end of close fist game, they took the first game by 22-20.
Game 2 was developed as like the game1 and it was close game again. But Sudket and Salaree took the consecutive points and won by 21-11.
Third Game
Sudket PRAPAKAMOL
&Saralee THOUNGTHONGKAM
21-20
Sung Hyun KO
&Jung Eun HA
21-11
Disappointing lost at the third round of mixed doubles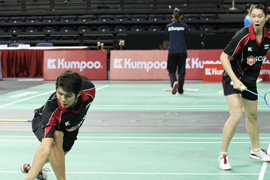 The third round of mixed doubles, Songphon and Kunchala pair played with Frun Kunian Teny and Pia Zebadiah Bernade from Indonesia.
Both game 1 and 2, Songphon and Kunchala could not play the way they wanted to and lost by 12-21, 10-21. They could not advance to the quarter final.
Third Game
Songphon ANUGRITAYAWON
&Kunchala VORAVICHITCHAIKUL
12-21
Fran Kurniawan TENG
&Pia Zebadiah BERNADET
10-21
Zhang Zhibo & Zhang Dan pair had a perfect win again
The third round of womenfs doubles, Zhang Zhibo and Zhang Dan were against with Hsiao-YunChewg and Shyo ChiehChewg pair from Chinese Taipei.
It was the game that chasing one point from 12-12. At 16-16, Zhang Zhibo and Zhang Dan put the pressure on the opponent and took advantage of the game.
They won by 21-19. The second game, Zhang Zhibo and Zhang Dan allowed opponent the lead 3 points at 9-12, but after this, they scored 6 consecutive points and took the momentum of the game. They won by 21-18.
Third Game
Zhibo ZHANG
&Dan ZHANG
21-19
Hsiao-Yun CHENG
&Shao Chieh CHENG
21]18