The fifth day of Macau Open
after close match, won the 4th place etc
At end of close game, lost by few points. But winning final four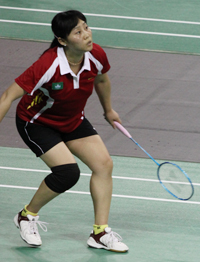 Zhang Zhibo and Zhang Dan pair played with Meiliana JAUHARIEGreysia POLII from Indonesia who were 5th seed in this tournament. They played so hard and took the pace of the game and won the first game by 21-17. Game 2, they took the lead until 17-15 but they gave the opponent 5 consecutive points and lost by 18-21. At the final game, Zhang Zhibo and Zhang Dan were 6 points behind at 3-9 and everybody thought they would loose but, they never gave up and took 8 consecutive points and upset the game. At the end of the game, when they only needed 3 more points to win the match, they gave the opponents to 5 consecutive points and lost the match.
Quarterfinal
Zhibo ZHANG
&Dan ZHANG
17-21
Meiliana JAUHARI
&Greysia POLII
21-18
18-21
Unfortunately eliminated at in the semi-final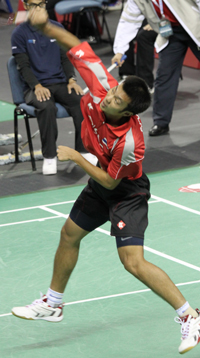 The fifth round of menfs single, he was against with Hyun Il Lee from Korea.
Game 1, it was close game that they developed the game within 2 or 3 points gap until 13-13. Boonsak could not catch up with Lee after giving him 3 consecutive points from 13-13 and lost by 18-21.
Game 2, from 7-7, Boonsak, again gave lee some consecutive points and tried to push hard but could not catch up. He lost by 17-21.
Quarterfinal
Boonsak PONSANA
18-21
Hyun Il LEE
17-21
Never gave up. They never lost their fighting spirit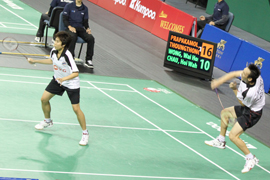 They played with Hendra Aprida GUNAWAN & Vita MARISSA from Indonesia.
The first game, they never took the lead and lost 12-21. The second game, Sudket and Salaree fell behind 5 points at the moment. But they never gave up and flipped over the game.
They won by 21-19 and took game 2. At final game, we wish that they could win the game with keeping the momentum from game 2, but they could not take their own pace of the game and lost 12-21.
Quarterfinal
Sudket PRAPAKAMOL
&Saralee THOUNGTHONGKAM
12-21
Hendra Aprida GUNAWAN
&Vita MARISSA
21]19
12-21