French Open Super Series 2010
French Super Series 2010 was held in Paris, France on November 2nd thru 7th. Thai players, sponsored by Kumpoo, have made brilliant achievements by conquering womenfs doubles and mix doubles. Kumpoo won two champion titles among 5 titles.
Mix Doubles Winner: Suket & Sararee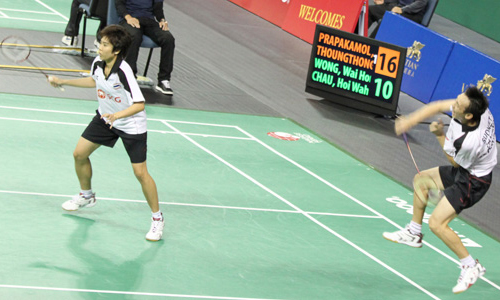 *Photo taken at Macao Open
Currently, Suket & Sararee mix doubles pair climbed up to their highest world ranking No.6 (Super Series point ranking No.5) in their badminton career.
They have beaten the opponents by straight sets at the 1st and 2nd round.
The 3rd round was not easy game for this pair against Swedish.
They barely managed to win the 1st set by 22-20, followed by the threatening 2nd set which they lost by 17-21. The start of the final set did not turn good for them, and the talented Swedish pair (world ranked No.9 )did not give easy game till 16 all from 9 all with the seesaw game. However, Thai pair managed to pluck 3 successive point to 19-16, and finally snatched the victory by 21-19.
Semi-finalcThe opponent was their same patriot Songphon & Kunchala.
Both pairs have no experience to play against in the foreign tournaments, and the game seems unpredictable.
However, Kunchara wanted to concentrate on her womenfs double final, and has decided default for her mix doubles game.
FinalcSuket & Sararee have kept leading the point against German pair Michael & Bridjit, and beaten German pair in straight set by 21-15 and 21-15.
The 1st round
Sudket PRAPAKAMOL
&Saralee THOUNGTHONGKAM
21-7
Sylvain Grosjean&Emilie Lefel
21-10
The 2nd round
Sudket PRAPAKAMOL
&Saralee THOUNGTHONGKAM
21-14
Chris Adcock&Imogen Bankier
21-11
The 3rd round
Sudket PRAPAKAMOL
&Saralee THOUNGTHONGKAM
22-20
Nathan Robertson&Jenny Wallwork
17-21
21-19
Semi-final
Sudket PRAPAKAMOL
&Saralee THOUNGTHONGKAM
Bye
Songphon Anugritayawon&Kunchala Voravichitchaikul
Final
Sudket PRAPAKAMOL
&Saralee THOUNGTHONGKAM
21-15
Michael Fuchs&Birgit Overzier
21-15
Sudket & Salaree Profile
Women Doubles Winner: Doananong & Kunchara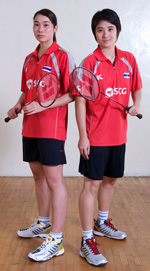 Malaysia Open Grand Prix Gold was held at Malaysia from July 6th-July11th. During this six days, Kumpoo sponsored players performed well and got great result.
Duanganong & Kunchala
Doanganong & Kunchara ,the winner for Malaysian Open 2010, was seeded as No.3 for this tournaments and entered straight into 2nd round.
The opponent at the 2nd round was Danish pair.
Though Danish pairfs ranking was lower than Thai pair due to insufficient entry into the international tournaments, their level is actually close each other. However, the game ended up with easy one side score by 21-13, 21-6 for Thai.
Semi final against Danish pair againc. Having had walkover, they had to play the games every other day. Thus, they could have good rest and reserve enough energy to beat Danish in the straight sets by 21-9, 21-5.
Final roundc. The opponent was Petoya(Bulgaria) & Anastasha(Russia) whose world ranking is higher (No.10) than Doanganong and Kunchara.
The game went into seesaw tense battle from 5 all upto 16 all, then after the opponent became slow, they got 5 successive points to close the 1st set by 21-16.
The 2nd set was rather easier for them by leading the game 11-2 upto the interval, then The opponent has decided to quit to concede the victory to Thai pair.
By adding this victory, Doanganong and Kunchara have won two champion titles this year. Not being satisfied within top 10 in the world, they are aiming to achieve more higher ranking onward.
The 1st round
Songphon ANUGRITIYAWON&Kunchala VORAVICHITCHAIKUL
Bye

Bye

The 2nd round
Songphon ANUGRITIYAWON&Kunchala VORAVICHITCHAIKUL
21-13
Maria Helsbol&Anne Skelbaek
21-6
The 3rd round
Songphon ANUGRITIYAWON&Kunchala VORAVICHITCHAIKUL
Bye
Eva Lee&Paula Lynn Obanana
Semi-final
Songphon ANUGRITIYAWON&Kunchala VORAVICHITCHAIKUL
21-9
Lena Frier Kristiansen&Marie Ropke
21-15
Final
Songphon ANUGRITIYAWON&Kunchala VORAVICHITCHAIKUL
21-15
Petya Nedelcheva&Anastasia Russkikh
21-15
Duanganong & Kunchala Profile