Salaree Toungthongkum (from Mar 1st,2010 to Feb 28th,2013)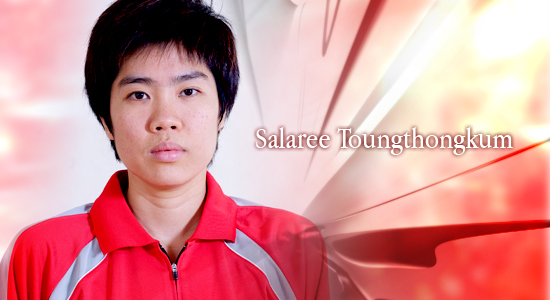 Salaree Toungthongkum Profile
Birthday: June 13, 1979
Hometown: Thailand
Height: 163 cm
Weight: 58kg
Hand: Right Handed
Salaree Toungthongkum Biography
Her technique and accuracy which are exactly like a precise machine control matches.
She paired up with Sudket who is gMagician in the courth for mixed doubles. She is the only one who can led Sudketfs ability to maximum.
She becomes a veteran in the Thailand national team, but now she fits so well because she trained so hard and lost her weight last year. She pursuits higher level than what she is today this year.
Moreover, she is indispensable existence in a Thai team as a leader and leads the team with high captaincy.
Tournament Record
Malaysia Open 2010 2nd place
Swiss Open 2009 4th Place@
Malaysia Open 2009 4th Place
Singapore Open 2007 2nd Place
World Championship 2005 3rd Place
Asia Championship 2005 Winner
Japan Open 2005 Winner
BWF World Ranking (Self Best)
Racket
POWER SHOT NANO 2100H
In December of 2008, a racket that used the worlds first Hexagonal Taper Shaft to decrease the amount of torque, the Kumpoo 2100H racket was born. After a year from its release, the Super Durable Frame and a color change was added to create a racket that could withstand stringing at a higher tension.