Clothing Technology
GIGALUCKS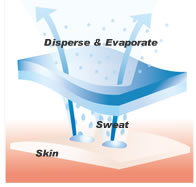 GIGALUCKS is a high quality fabric that quickly absorbs sweat from your body and then dries. By making the spaces between the fibers smaller, the moisture permeates through the small spaces (capillarity). With the quick absorption and release of sweat from your body and clothes, keeps your dry and cool.
Eco Do

The moisture in your clothes induces perspiration and bacterial growth. Sweat also makes you fatigued. "Eco Do" is created from recycled polyester fibers that are environmentally friendly. Not only does it reduce the moisture in your clothes by 10%, but it also has anti-bacterial, deoderizing, and UV blocking (blocks over 92% of UV rays) properties.
The recycled polyester fibers are created from recycled fibers and PET bottles, that are crushed, heated and made in to chips, and then processed in to fiber. All fabric purchased is created in factories that have recieved the ISO14001 enviornmental management standard.